Bet most of you with some models of 22re's don't know there's a Hidden Thermostat (beside the one for the radiator) on your engine. And I'll bet there are quite a few members on this board that do. I didn't

I've been trying to hunt down a problem on my 95'4rnnr w a 22re for some time. The most bothersome one is a very mild constant fluctuation in RPM's at just about any speed. I can run the idle up and hold the pedal steady and you can see the tach just barely moving up and down. Sometimes I think I can feel it even when driving as a small acceleration/decceleration. Then there is/was the uneccesarily high cold idle . Like > 2500 RPM's

I checked the specs on fuel delivery- pump , pressure regulator etc. , MAF , TPS , and then cleaned out the throttle body, which was a litlle gummy but nothing bad and I decided to open up the Idle Air Control Valve and clean it.

This is where I discovered the hidden thermostat. The IACV on this model is controlled by coolant temp. This is where I also made a big screw up and didn't record the original position of the IACvalve seat before removing it to be cleaned. It's that part in the following pic with the slot on the side. Rotating this seat CCW loosens it and allows more air flow through the throttle body at cold temps thus increasing rpms.




So, I cleaned it all up, put it back together - putting the seat where I thought it should go from memory - and put it on the vehicle and now even with the idle adj. screw all the way in it's running like 1700 RPM's when warm.

So I take it back off and apart and adjust the seat down a full turn and try it again and it's a little better but I figure I'm going to end up taking this thing on and off 50 x's to get it right (even though I can do this in ten minutes by now).

Looking through th FSM I couln't find any reference to an idle down temp so I decided that 170°would be a good place for the IACV to shut off extra idle air so I set up the following contraption to adjust the seat at that temp.
Just pressurized a tank of water at 170° and ran it through the valve for a bit then adjustted the seat closed.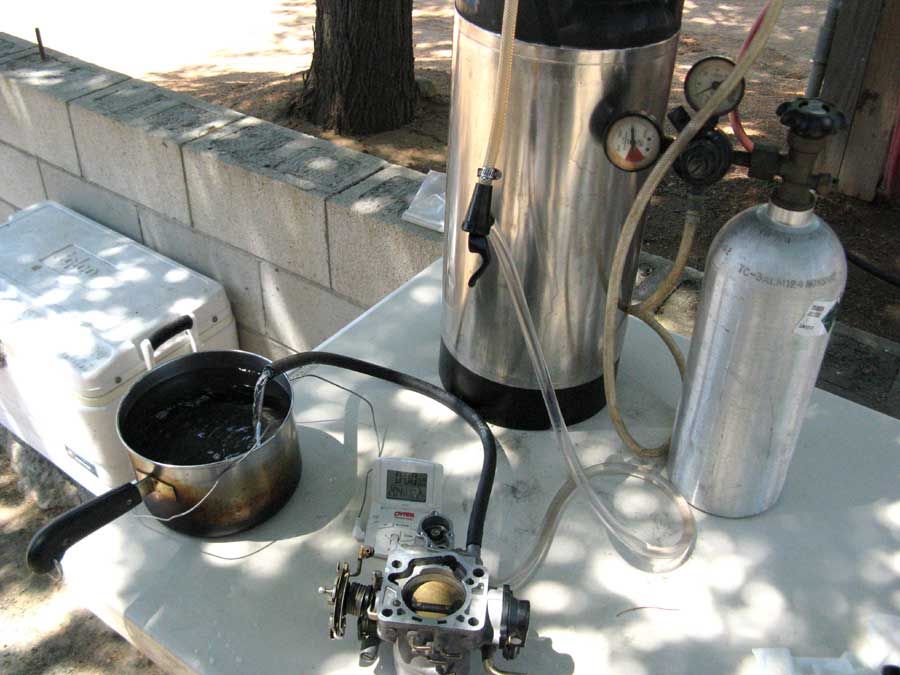 High idle when cold seems to now be adjusted pretty close to where it should be , around 1700 RPM, and the engine idle when warm is more stable now . My idle adjustment screw on the throttle body is set about 5/8 of a turn open which seems a little tight but that's what it takes to get a 750 RPM idle. If I were to adjust the IACV seat out further -closing at a higher temp - more air flow- higher cold idle- I would end up screwing in the throttle body idle adj. screw in even more to get the warm idle back down. All this and the mild RPM fluctuation is still there though.

Any how , sorry for the long post , but I know others have little hair left too after troublecrapshooting idle issues on these motors and thought maybe it would spark off some ideas.

I'm thinking as the IACV ages , the range of motion in the thermo valve probably begins to decrease or get sticky and this could be why over time we keep having to adjust our idle screws in more and more over time.