Drive Your Customers To The Edge!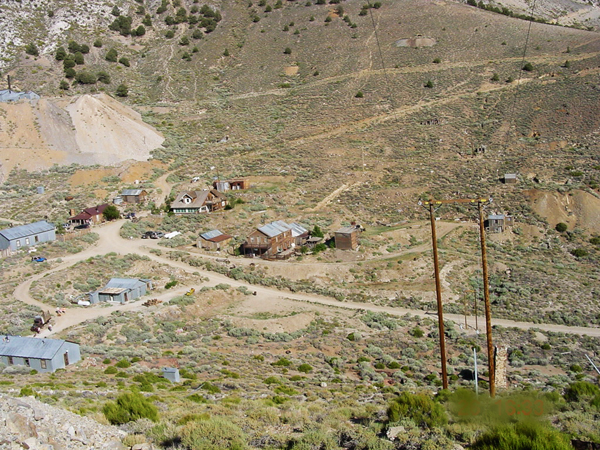 Cero Gordo Mine
(click picture for higher resolution)


Looking for a great way to get out with a customer, but you don't golf? Why not take them four wheeling!

That's right: Get away with a customer or prospect for some quality one-one-one time. While it requires a bit more planning than a round of golf, a trek into the back country could prove to be quite the experience.

No need to limit yourself to customers, either. Think vendors (suppliers), prospects and employees. You can use an off-road jaunt as part of a team-building exercise or as a reward for your sales staff. You and your staff could have a lot of fun with this. How many businesses let their employees go romping on the trails as a reward for a job well done?



You see, it's all about building and maintaining those relationships. An off-road excursion, if even for just a couple hours, provides that valuable one-on-one time. Your guest(s) come away with some pretty amazing memories.
Taking your guests four wheeling
There are some details to consider. First, of course, is the difficulty of the ride. Bear in mind that, unlike you, your guest may have little or no off-road driving experience. Plan a more leisurely ride. Make your goal some destination (as opposed to the drive itself). For example, you may decide to visit an old mine, check out a ghost town, do some fishing, or just go out for a ride and a picnic. Ideally, select a place that your guests haven't or couldn't visit on their own.

Which is why it helps to know your guests' interests. What have you learned about them over the years? Use that information to determine the destination(s) and activities.

Try to enlist a second driver. You should always head out with at least one other vehicle. For this exercise, the second driver could transport other customers or employees. To maximize face time with each guest, you and the other driver could switch passengers during some predetermined moment, say lunchtime.

Let your guests drive if they want to (and you feel confident). Make sure you keep your eyes on the trail while you chat, especially if you're in difficult terrain.

Remember to pack your vehicle accordingly. This will include recovery gear, first aid kit, communications equipment, food, water and such.

Start simple. You can always enhance the program as you gain experience (and confidence) doing this. Have fun with this. In fact, that's the point. Too often contacts with customers, employees and others are on a serious basis. Going off road allows all of you to let your hair down a bit.

Take a few moments now to sketch out some ideas. Consider who you'd like to take and where you'll go. Then make those calls. Over time this could turn into something really big for you and your organization. Go for it!

# # # #




Related Articles from Badlands Off-road Adventures
10 Axioms of 4 Wheeling. 10 Safety Rules For Off-Road Driving Keep Your Kids Safe While 4 Wheeling How to Survive in Your Vehicle Stuck in Snow
Did you miss the previous articles?
2012-12-15 Be Seen And Be Cool A Primer on Winching, Part 2 A Primer on Winching, Part 1
Late January / February Schedule

(click on the link for details)


If you plan to Easter Safari this year (2013), you need to sign up now! We will be signing up for trail on Jan 22nd (first come first served).

If you want to join Badlands Off-Road Adventures, this link will take you to our plan and program. http://www.4x4training.com/Adventures/EasterSafari/EJSMain.html



Winch Recovery Bandana


Click for higher resolution image

The Bandana is packed full of useful information and is a quick reference in the field when no DVD player is available."

The Bandana layout follows the "Vehicle Recovery Plan" with pathways to more detail. A unique section of the Bandana, gives the steps for a "Winch Rigging Check: Walk through" so that you verify every element of the rigging before you commit to the pull. Stuff this in your recovery kit and you will always be ready!

Pick up or order the Winching DVD too! There is no substitute for hands on training. If you can, sign up for one of Badlands Off-Road Adventure's Winching Clinics.

Warning – the Bandana and DVD are not a substitute for proper training and use of quality equipment that is used within the bounds of their safe working load. We advise you to use the information provided in both the Winching Recovery Bandana and the "Basic to Advanced Winching and Recovery DVD" at your own risk. We cannot control the quality and specifications of the equipment used and the methods actually employed.

Winch Recovery Bandana Order Button




I hope to see you on the trails!
Tom Severin, President
Badlands Off Road Adventures, Inc.
4-Wheel Drive School
310-374-8047
http://www.4x4training.com
Make it Fun. Keep it Safe.
#####
If you find this information valuable, please pass it on to a friend. You can forward them the email. If you received a forwarded copy of this newsletter and would like to subscribe for yourself, go to: www.4x4training.com/contacts.html and follow the instructions to join our mail list.
Want To Use This Article In Your Magazine, E-Zine, Club Newsletter Or Web Site? You are welcome to use it anytime, just be sure to include the following author/copyright information: Tom Severin, 4x4 Coach, teaches 4WD owners how to confidently and safely use their vehicles to the fullest extent in difficult terrain and adverse driving conditions. Visit www.4x4training.com to develop or improve your driving skill.

Copyright 2013, Badlands Off-Road Adventures, Inc.
Original author:
This email address is being protected from spambots. You need JavaScript enabled to view it.