Full sized and micro versions of tools available
Portland, OR (PRWEB) December 15, 2009 -- COAST Products introduces two new multi-tools with LED lights built into the handles. The LED Micro Pliers (model C2899) and the LED Pocket Pliers™ (model c5799) are part of the COAST line of Professional Use multi-tools. This line of multi-tools combines modern design, high tech materials and the highest level of manufacturing quality and craftsmanship in each piece. The tools are targeted at all of COAST Products' distribution channels, including hardware, sporting goods, professional automotive and police/military.
"These tools are an important addition to our multi-tool line-up," said David Brands, President of COAST Products. "The LED light on this tool is a feature that other multi-tool manufacturers simply do not have."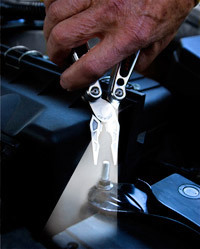 The LED light source on each multi-tool is positioned so that it will illuminate the area of the pliers head and is operated by a simple on/off switch. Both tools feature 440c stainless steel construction and tools. The handles have a sleek chrome finish for durability and rubber inlays for sure grip. The pliers' head on each tool is spring loaded, making the pliers or wire cutters simple and easy to use.
The LED Pocket Pliers has also received the Handyman Club of America Seal of Approval. This approval was given after the multi-tool was tested and evaluated by 100 member testers of the Handy Man Club of America. 98 percent of testers gave the LED Pocket Pliers a positive review.
Model c5799, LED Pocket Pliers
Built-in LED light
440C stainless steel construction
Sure grip rubber handle inlays
Spring loaded pliers head for easy, one-handed operation
Tools included: LED light, pliers wire cutter, knife blade, file blade with wire stripper, flathead screwdriver, awl, small flathead screwdriver, can opener with screwdriver tip, Phillips screwdriver, bottle opener with flathead screwdriver, saw blade and scissors
Light powered by 2 CR1220 batteries (included)
Four inches long, closed
Sheath Included
Also available in black as model c5799B
MSRP: $39.99USD
Model C2899, LED Micro Pliers
Features:
Built-in LED Light
440C stainless steel construction
Sure grip rubber handle inlays
Spring loaded pliers head for easy, one-handed operation
Tools included: LED light, pliers, wire cutter, main knife blade, saw blade, key ring, Phillips screw driver, bottle opener with flathead screwdriver tip and wire stripper, awl, file with nail pick, can opener with small flathead screwdriver tip
Light powered by 2 CR9278 batteries (included)
3 inches long, closed
MSRP: $19.99USD

About COAST Products
COAST Products was founded as Coast Cutlery Company in 1919 by Henry W. Brands, the first of three generations of the Brands family who would operate this Portland manufacturer and distributor. Originally established to provide quality knives to the farmers, ranchers and workingmen of the Pacific Northwest, today COAST produces sport knives, multi-purpose tools, LED Lenser lights, and licensed products for Eddie Bauer. In North and South America, COAST is the co-producer and exclusive distributor of the German-engineered LED Lenser lights. Every COAST product reflects an investment in skilled craftsmanship and quality materials and is backed by a lifetime guarantee.