Camping Gear Repair Kit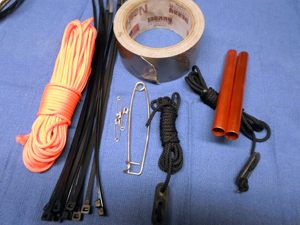 Build a repair kit for your off-Road gear.
One of the keys to a successful off-road trip is preparation. I've written about that many times. Understandably, the focus is on preparing your vehicle and yourself for the journey. With this article I'd like to zero in on personal items and camping gear.

Do you know how to handle breaks, tears or holes in your camping gear, clothing or bedding? It begins with the proper tools and supplies. Let's take a look at some of the items you should pack.
For camping
Several manufacturers offer camping repair kits. They appear to be pretty good, and you could probably get by with one of those. If you choose to build a kit, be sure to include these items: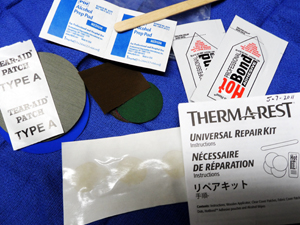 Terma-A-Rest sells replacement kits if you lost or used the one that came with the Therm-A-Rest.
(click picture for higher resolution)
Patches and glue for the tent fabric, and a bottle of seam sealer. Materials to repair broken tent poles. You can use short pieces of tube slightly larger than the tent poles, along with duct tape or other strong tape. Camping kits contain the short tubes, known as tent pole ferrules, so you may be better off just buying a kit. Some kits also include Tenacious Tape, designed specifically for high-stress applications. Extra mantel(s) and generator(s). If your lantern and stove use liquid gas, consider purchasing at least one extra generator. They wear out with heavy use. You can find those at camping stores and online. Also, make sure you have extra mantels on hand. Patches for repairing holes in the air mattress. Therm-A-Rest mattresses come with patch kits. The patching process is a bit complicated, but it works great.
For your clothing
Clothing takes a beating in the outdoors. A sewing kit will allows you to mend your clothing, as well as sleeping bags and backpacks. At a minimum the kit should include a needle, thread and buttons. For heavy-duty work (back pack seams and sleeping bags), pick up a Speedy Stitching Sewing Awl. These handy devices include two or three sturdy needles and heavy waxed thread.
I've used one of these to stitch up a tear in a canvas chair (hey, I'm a poet!), a seam on a tent pole bag and the seams on a backpack.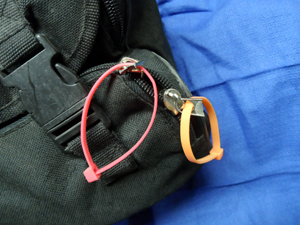 Not quite enough tab left? Use a zip tie!
(click picture for higher resolution)
For general repairs
Duct tape: The all-purpose repair "tool." Enough said!
Rescue tape: Designed for applications involving high temperatures and pressures, like radiator and heater hoses. I've also used it to repair tent poles (in conjunction with a short piece of pipe). Rescue tape is so useful, I recommend you pack one roll along with other tools and gear.
Safety pins and wire ties: Very versatile and useful. For example, you can use either to replace the handle portion of a zipper that has broken off. Simple feed one end through the hole in the zipper body and form a loop. Your zipper works like new again. Of course, safety pins and wire ties have multiple uses. Best of all, they don't take up much space. Pack a bunch of them.
All-purpose glue: Seal-All® glue is quite versatile and can have applications for your vehicle as well. The manufacture states:
" Repair and maintain oil pans, gasoline tanks, oil lines, golf club grips, fletching arrows, fishing rod tips and guides, tents, canoes, boats, outboard motors, fishing lures, woodworking, model kits, glass, china, crockery, leather, metal, porcelain, fiberglass, plastics, ornaments, figurines, linoleum, oilcloth, furniture, knobs and drawers, screens, tile, plumbing, gutters, and much more."
You can see all the possible uses on an outdoor adventure. When my brother and I were teenagers, we glued patches on our jeans rather that sew them. The jeans even went through the washing machine without the patches coming off!
Don't let a minor rip or hole put a tear in your off-road plans. Pack a repair kit and the proper supplies so you can deal with those issues that crop up during your off-road trip. The additional investment is minor, and it will allow you to keep on wheeling in comfort. # # # #
Related Articles from Badlands Off-road Adventures
Pocket Survival Kit
How to Survive in Your Vehicle Stuck in Snow
Take A Wilderness First Aid Course
Your Gear Is Not Complete Without An Emergency Packet!
Urban Disasters No Match For a Prepared 4-Wheeler
10 Safety Rules For Off-Road Driving
Use a checklist for Every Outing
Did you miss the previous articles?
2013-04-15
Keep Recovery Gear Accessible
2013-03-15
You Gotta Have Good Wood to Go 4 Wheeling
2013-02-22
Expedient Field Repair - U Joints
2013-02-01
February 2013 Off-Road Adventures Magazine: Rasor Off-Highway Vehicle Area by Tom Severin
June Schedule

(click on the link for details)
##########################
Wilderness Advanced First Aid Course June 7, 8, 9 & 10, 2013
We need anyone interested to sign up now to ensure we have enough teams to make the class work.

The Wilderness Advanced First Aid clinic will provide you with skills, knowledge and training to handle life threatening medical emergencies and allows you to be better prepared to protect your family in an emergency. Wilderness Advanced First Aid is a four day immersion into general medical concepts and Basic Life Support skills. This course teaches what to do with a medical emergency when help is miles away and calling 911 isn't an option. If you plan to become a Wilderness First Responder, this is the first 4 days of the 8 day Wilderness First Response course. You can take the second 4 days at a later time (within 3 years).

" The Wilderness First Aid was one of the MOST USEFULL clinics I have ever attended, due in large part to the effort you and Josh put in to make it all possible. "
Joe de Kehoe

Note - this is a four day class and you must be at least 18 years old. If you are interested follow these links.

More Details...


You can register directly at http://www.4x4training.com/calendar/calendar.php#WFA



Winch Recovery Bandana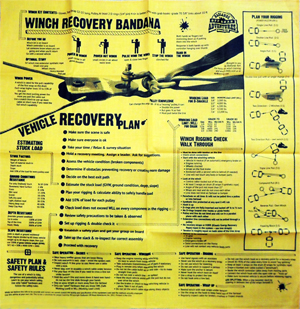 Click for higher resolution image

The Bandana is packed full of useful information and is a quick reference in the field when no DVD player is available."

The Bandana layout follows the "Vehicle Recovery Plan" with pathways to more detail. A unique section of the Bandana, gives the steps for a "Winch Rigging Check: Walk through" so that you verify every element of the rigging before you commit to the pull. Stuff this in your recovery kit and you will always be ready!

Pick up or order the Winching DVD too! There is no substitute for hands on training. If you can, sign up for one of Badlands Off-Road Adventure's Winching Clinics.

Warning – the Bandana and DVD are not a substitute for proper training and use of quality equipment that is used within the bounds of their safe working load. We advise you to use the information provided in both the Winching Recovery Bandana and the "Basic to Advanced Winching and Recovery DVD" at your own risk. We cannot control the quality and specifications of the equipment used and the methods actually employed.






Winch Recovery Bandana Order Button




Order a Basic to Advanced Winching & Recovery DVD too!




I hope to see you on the trails!
Tom Severin, President
Badlands Off Road Adventures, Inc.
4-Wheel Drive School
310-374-8047
http://www.4x4training.com
Make it Fun. Keep it Safe.
#####
If you find this information valuable, please pass it on to a friend. You can forward them the email. If you received a forwarded copy of this newsletter and would like to subscribe for yourself, go to: www.4x4training.com/contacts.html and follow the instructions to join our mail list.
Want To Use This Article In Your Magazine, E-Zine, Club Newsletter Or Web Site? You are welcome to use it anytime, just be sure to include the following author/copyright information: Tom Severin, 4x4 Coach, teaches 4WD owners how to confidently and safely use their vehicles to the fullest extent in difficult terrain and adverse driving conditions. Visit www.4x4training.com to develop or improve your driving skill.

Copyright 2013, Badlands Off-Road Adventures, Inc.
Original author:
This email address is being protected from spambots. You need JavaScript enabled to view it.