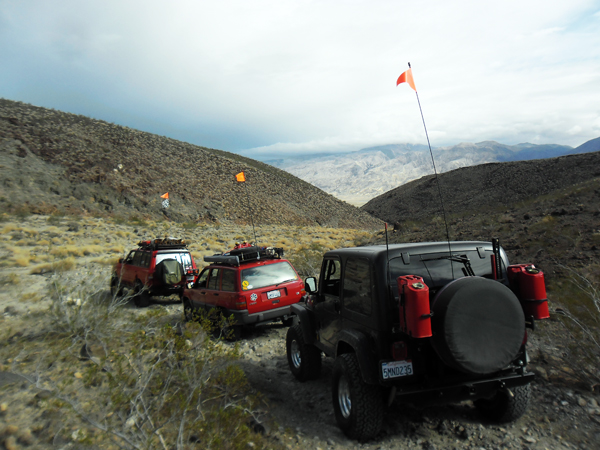 Flags help keep track of the group.
(click picture for higher resolution)
Dune flags are quite popular nowadays. You'll see all colors and styles, including the American flag, pirate flags, checkerboard flags, rebel flags, "Don't Tread on Me", and many others. While the driver may be making a statement with his flag, there is a distinct purpose for the flags, as well.
---
---
Those flags add an element of safety to the sport of four wheeling. Strange as it may seem, collisions do occur in wide open expanses we four-wheelers drive on. Those flags help you see and be seen.

This is especially true in hilly or dusty environments. Hills naturally block views. Climbing a hill or dune, you can't see what's on the other side. Is another vehicle coming toward you?

Dust and sand are another problem. While a flag is quite small, if it's bright orange or red, it often can be seen through the haze of dust. Plus, its height—perhaps six to eight feet above the ground—may place it above most or all of the dust. I've witnessed instances when the only thing you could see through the dusty cloud was a couple of flags. You'd be surprised just how low visibility gets on many trails at higher speeds. (BTW remember Tom's rule: over 10 mph is "fast" off-road! That doesn't mean we can't go fast. Just that the dynamics change.)

An added benefit is that by watching the flags of the vehicles ahead, you can get an idea of the terrain. If you see the flags bobbing up and down, that tells you may be headed for some whoop-dee-doo.

Related to that, it's easier to keep track of the vehicles behind you if they have flags. While in the lead vehicle, I typically can see back at most up to three vehicles. But I can see upwards of a half dozen flags waving behind me. Although the vehicles in my trips are always in radio contact, I also glance in my mirror or over my shoulder frequently to check on the other vehicles progress. Not all drivers travel at the same speed on unfamiliar or difficult terrain. It's a comforting feeling to look back and see all those flags trailing along knowing the group is together.

At the same time, it's easier for those in the pack to see the lead vehicle. I recommend that the lead vehicle use a distinctive banner so everyone can spot the vehicle. Vehicles can disappear for a short period while going through brush or down a hill. And, as mentioned before, the dune flag might be seen through or above the dust when its vehicle is not.
Rules, specifications for dune flags
Generally speaking, you aren't required to use a dune flag while driving off road. The one exception is on public lands containing sand dunes. The Bureau of Land Management requires banners be solid red or orange in color, at least six inches by 12 inches, and placed such that at least part of the banner is within 10 inches of the top of the whip.

BLM a considers a whip to be any pole, rod or antenna mounted on the vehicle that extends at least eight feet from the surface of the ground. It must stand upright when the vehicle is stationary.
Higher quality dune flags and banners (with a pole) usually run about $12 to $15. They can be purchased at any ATV shop, and in most stores and gas stations near off-road areas. As mentioned above, you can use an antenna or most any other whip-like object. You don't need to buy the unit. Just adhere to BLM's rules if you're driving in dunes.

One thing you'll notice is that the flag or banner doesn't last long if you use it frequently. Wind, rain, dust and the sun take their toll. My flags tend to fray and fade after about one year. The rod or whip might snap on you, especially if you drive a lot in brushy or wooded areas.<br /><br />How to attach a flag

Because there are so many different styles of vehicles, it would be difficult for the manufacturers of dune flags to design a universal mounting bracket. Instead, the rod or pole comes embedded in a ½-inch bolt. You need to drill a hole for the bolt; a bumper or other sturdy surface might work. If you use your flag frequently a quick disconnect is handy. You can purchase flags with a quick disconnect or you can build one from an air fitting.

Some Jeep owners tuck the pole against the inside hinge of the tailgate. Closing the tailgate keeps the pole upright and secure. You may need to tinker with your dune flag pole, but you should be able to come up with some way to secure it.

Flags serve a very important safety function in four wheeling. They also allow drivers to express themselves a bit. I encourage you to attach a flag to your vehicle and to use it frequently off-road.
Be Seen And Be Cool
Related Articles from Badlands Off-road Adventures
Build Your Own First Aid Kit
Mojave Green Can Bite You In A Whole New Way
Keep Your Kids Safe While 4 Wheeling
How to Survive in Your Vehicle Stuck in Snow
Store And Use Your Fire Extinguisher Properly
Your Gear Is Not Complete Without An Emergency Packet!
Urban Disasters No Match For a Prepared 4-Wheeler
10 Safety Rules For Off-Road Driving
Commutation Equipment is Critical for Off-Road Driving
Did you miss the previous articles?
A Primer on Winching, Part 2
A Primer on Winching, Part 1
Set Your Tent Up Right
12 Must Have Books for the 4 Wheeler
6 7 Reasons Why Your Spouse Should Learn to Drive Off Road.
Maintain Your Edge
January / Early February Schedule

Click for higher resolution image
January 05 Tread Lightly! Tread Trainer Course
January 06 Basic to Advanced Winching Clinic - Mojave, CA
January 12 Getting Started Off-Road Driving - LA area
January 13 Advanced Beginner Clinic - Mojave CA
January 19 Bradshaw Trail
January 26 Getting Started Off-Road Driving - San Diego area
January 27 Sand & Dunes Driving Clinic - San Diego area
February 02 Tire Repair & Hi-Lift Mini Clinic
February 10 Rock Driving Clinic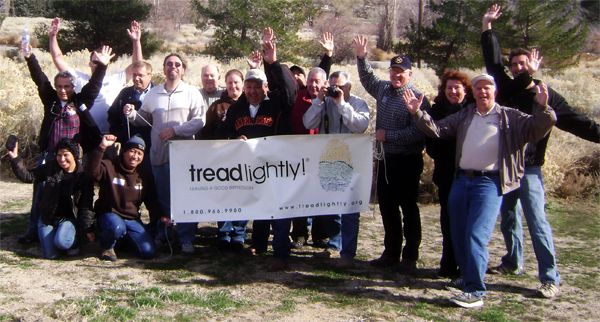 Click for higher resolution image

The Tread Lightly! Tread Trainer Clinic is Jan 5, 2013. You are encouraged to sign up for the Tread Lightly! Tread Trainer Certification Clinic. This is a one day course. There is a minimal fee to cover class materials and handouts. It requires a commitment to teaching and spreading the word about Tread Lightly! Principles and outdoor ethics.

You can find out more details on line at http://www.4x4training.com/TrainingClinics/Tread.html .

And register on line at http://4x4training.com/calendar/calendar.php#Tread.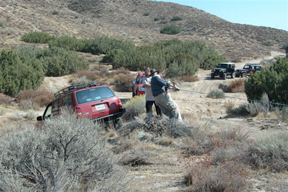 This one day clinic starts with the basics. If you are considering installing a powered winch on your vehicle, or have one already but need training to learn how to get the best from it and do it safely, you need to take this class. The one day course covers: safety related issues, basic operation of the winch, simple and complex riggings, stuck assessment, winch capability, and minimizing environmental impact. This is a hands on class. By the end of the day you will be safely rigging some complex recoveries. More Details...


You can register directly at http://www.4x4training.com/calendar/calendar.php#Winch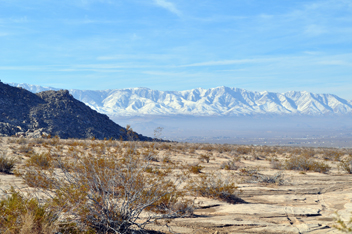 This is a weekend of wheeling across the historical Bradshaw Trail from near the Salton Sea to the Colorado River. This is nice easy expedition type run with a few mild 4WD challenges. And a good family type trip. It is a 2 day trip with dry camping required one night. The winter months are the best time to enjoy the California desert! The sky is blue, the temperature is perfect and the wonderful smell of the Creosote bush in bloom is everywhere. Join us for a weekend, in the lower desert in the far corner on California.

Sign up at: http://www.4x4training.com/Adventures/BradshawTrail.html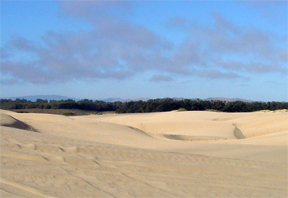 This day-long clinic will expose you to a variety of driving conditions and levels of difficulty. Driving on sand is challenging and different than dirt, so we'll progress slowly as you learn the proper techniques. As your confidence grows, you will master increasingly more challenging dunes. Along the way you will be exposed to the beauty of the area and the thrill of the windswept dunes.
More details...

Register for the Sand Clinic using this link.

http://4x4training.com/calendar/calendar.php#SandBorrego



This 3 hour clinic will provide you with the knowledge and skills to repair the most common tire problems and to use a Hi-lift jack safely to aid you in the process. To drive confidently off-road learn how to: Fix a bead Plug a puncture Break a bead Replace a valve stem

You can find out more details on line at Tire Repair & Hi-Lift Mini Clinic:.

And register on line at http://4x4training.com/calendar/calendar.php#TireRepair.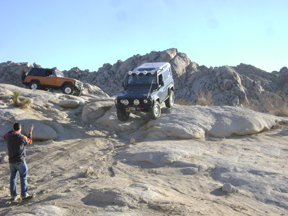 The Class will be in Johnson Valley. This is an introduction to Rock crawling but it is not on "baby" rocks. We take out time and stress careful wheel placement. We use spotters for difficult sections. You learn by inspecting the obstacle and predicting the line; by watching others try their line; by experiencing it yourself; and by the coaching. We recommend you repeat the training several times. You will be much more relaxed the second time over the same obstacles and you will pick up on little details missed the first time. More Details...


You can register directly at http://www.4x4training.com/calendar/calendar.php#Rocks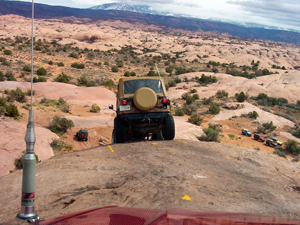 If you are thinking of attending Easter Safari next year (2013), it would be a good idea to book a room now and put your vacation request in. The motels are starting to fill up. Easter Safari starts March 23, 2013 and runs thru Easter March 31, 2013. Our plan is only to participate for Monday thru Friday (25-29). If you have the same idea, you need a room for 6 nights – arrive Sunday March 24 and depart the morning of March 30th.

Expect the rates to be higher for Easter Safari. There are lots of hotels in Moab.

The Moab Information Center can help will lists of motels, condos, campsites, RV Parks, etc. http://www.discovermoab.com/visitorcenter.htm 800-635-6622

This link is a complete list of motels. http://www.discovermoab.com/hotels.htm

If you want to join Badlands Off-Road Adventures, this link will take you to our plan and program. http://www.4x4training.com/Adventures/EasterSafari/EJSMain.html


Winch Recovery Bandana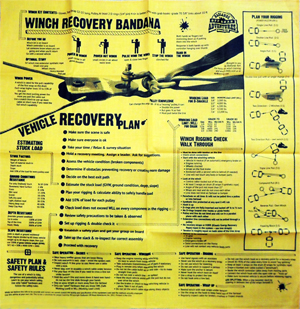 Click for higher resolution image
The Bandana is packed full of useful information and is a quick reference in the field when no DVD player is available."

The Bandana layout follows the "Vehicle Recovery Plan" with pathways to more detail. A unique section of the Bandana, gives the steps for a "Winch Rigging Check: Walk through" so that you verify every element of the rigging before you commit to the pull. Stuff this in your recovery kit and you will always be ready!

Pick up or order the Winching DVD too! There is no substitute for hands on training. If you can, sign up for one of Badlands Off-Road Adventure's Winching Clinics.

Warning – the Bandana and DVD are not a substitute for proper training and use of quality equipment that is used within the bounds of their safe working load. We advise you to use the information provided in both the Winching Recovery Bandana and the "Basic to Advanced Winching and Recovery DVD" at your own risk. We cannot control the quality and specifications of the equipment used and the methods actually employed.
The Badlands Off-road Adventures Store
Click here if you cannot see the full store

I hope to see you on the trails!
Tom Severin, President
Badlands Off Road Adventures, Inc.
4-Wheel Drive School
310-374-8047
http://www.4x4training.com
Make it Fun. Keep it Safe.
#####
If you find this information valuable, please pass it on to a friend. You can forward them the email. If you received a forwarded copy of this newsletter and would like to subscribe for yourself, go to: www.4x4training.com/contacts.html and follow the instructions to join our mail list.
Want To Use This Article In Your Magazine, E-Zine, Club Newsletter Or Web Site? You are welcome to use it anytime, just be sure to include the following author/copyright information: Tom Severin, 4x4 Coach, teaches 4WD owners how to confidently and safely use their vehicles to the fullest extent in difficult terrain and adverse driving conditions. Visit www.4x4training.com to develop or improve your driving skill.

Copyright 2012, Badlands Off-Road Adventures, Inc.