10 Rules of Trail Etiquette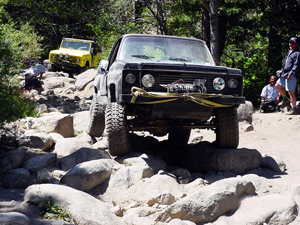 Keep track of the vehicle behind you.

Despite what some people think, we four wheelers are very considerate when off road. We stay on marked trails, look out for others, obey the rules, and clean up after ourselves. I'm sure you are a responsible driver. Even so, it's good to review trail etiquette from time to time.

Here are my top 10 rules of etiquette for four wheeling and camping. Read this list carefully. Are any of these unfamiliar to you? Do you need to brush up on any principles?
1. Be considerate. That's the overriding principle here, and it deserves special mention. As you encounter others—whether friends or strangers—remain considerate. Perhaps you don't feel like going out of your way for someone. At least avoid the temptation to be a four-wheel bully. Lord knows there are enough bullies in this world.
2. Yield right of way to mountain bikes, horses and hikers. They can't compete with a two-ton vehicle. Slow down as you approach them, and give them space. Avoid kicking up unnecessary dust, honking your horn, and such. Want to really make an impression? Offer a bottle of water, some gas, a wrench or a helping hand when needed. You'll feel better, and you'll help improve our image.
3. Yield to a vehicle driving uphill. That vehicle may need some momentum to climb. If we force him to stop, he may need to back up to gain that momentum.
4. Keep track of the vehicle behind you. If you come to an intersection or a curve, make sure the vehicle behind you sees which way you went. Don't assume he did. He might be in a dust cloud or behind a bush or boulder.
The other vehicle should try to keep up, too. However, that could involve eating a lot of dust; that's no fun. If you go through something difficult, look back and make sure the other vehicle made it.
5. Closely observe the vehicle ahead of you. This will help you pick the proper line(s) for negotiating a rough spot. It means keeping the proper distance back. Too close, and you could find yourself in a dust cloud. You also want to make sure the other vehicle's rear end isn't in your blind spot. Back off until you are at the proper distance. (The ability to see their rear differential is a good starting point.)
Where there are multiple obstacles, drop back farther to get a better perspective. This will also give you more time to think through your strategy.
6. When stopped, pull completely off the trail. You may not be the only person on the trails. Someone could overtake you or come at you from the other direction. When you pull off, pick a spot that's already been disturbed. Try not to park on tall, dry grass. Your catalytic converter could start a fire.
7. Don't throw cigarette butts out the window. Not only is that littering, but it can be a fire hazard. Southern California suffers several fires every year caused by discarded cigarette butts. Don't be a butthead. Dispose of them properly!
8. Boys left, girls right. Need to stop for a pee call? This little ditty is a reminder of which direction everyone goes.
Have numerous vehicles and no cover? Use a "dispersed" arrangement. The last vehicle stops. Everyone keeps driving until the 2nd to last vehicle feels it's far enough from the last vehicle. He stops and notifies the group. The process continues until everyone feels they are far enough away. How spread out you get depends on terrain features.
9. Be mindful of other campers. Don't slam car doors or run the vehicle engine before 7 am.
10. My Special Rule: No music in camp. Yep, no radios, no loud MP3 players, or other artificial noise makers. Look, you're out in the country to experience nature. You don't—or shouldn't—want to spoil the setting with some music, would you? Besides, we don't all agree on our music choice.
Now, it's OK if someone brings along a guitar or banjo. What better way to enjoy a campfire than with a sing-along, right? For the most part, though, enjoy the sounds of Mother Nature. They are better than anything man can create.
This list may seem like a lot to digest, but the rules are based on common sense. Recommit to the principles of off-road driving, and you will become an even better, more responsible four wheeler. # # # #
Related Articles from Badlands Off-road Adventures
10 Axioms of 4 Wheeling.
Don't Trash the Environment
Be A Good Sport: Tread Lightly
The Desert is Not Your Personal Sandbox
Did you miss the previous articles?
Camping Gear Repair Kit
2013-04-15
Keep Recovery Gear Accessible
2013-03-15
You Gotta Have Good Wood to Go 4 Wheeling
July Schedule

(click on the link for details)
##########################
Rubicon Trail Adventure August 12- 15, 2013


The Rubicon Trail is the stuff of legends. It is considered the Grand Daddy of trails. If your vehicle has a weakness, it will find it. Any serious four-wheeler needs to "Do the 'Con" at least once. There is no guarantee of avoiding vehicle damage. Even the most skilled driver can succumb to the fatigue of 12 unrelenting miles of rocks. Just bring a good attitude and the best prepared vehicle you can. This could be a once in a lifetime trip but a lifelong of bragging rights. More Details


You need to register now so you have time to prepare. Register directly at http://4x4training.com/calendar/calendar.php#Rubicon



##########################
OutdoorX4 Magazine to Launch in 4th Quarter 2013
An interesting notice I received about a new magazine.


OutdoorX4 will promote responsible 4x4 adventure travel and outdoor recreation


Houston, TX – 6/11/2013 – For years, the divide between 4x4 adventure enthusiasts and outdoor recreationalists has grown substantially despite continued efforts within these communities to promote responsible use of our natural resources.

OutdoorX4 Magazine's goal is to promote responsible 4x4 adventure travel along with the utility of 4x4 vehicles to enjoy all forms of outdoor recreation while also creating solidarity between all communities of adventurers. Whether you're an avid 4x4 adventure traveler, mountain bike enthusiast, camp cooking aficionado, world-class fisherman or weekend warrior, OutdoorX4 is focused on providing the most engaging and unique content to appeal to the broadest range of outdoors enthusiast.

"Most outdoor recreationalists utilize a 4x4 vehicle to access trailheads and camp grounds when they're in the backcountry. The opportunity to establish solidarity within these communities through OutdoorX4 while also promoting responsible use of our public lands is not only exciting for me but also fundamental in keeping this experience in place for current and future generations," said Frank Ledwell, Executive Editor of OutdoorX4.

John Herrick, Publisher of OutdoorX4 said, "We're excited to present the latest in techniques and tools, product reviews that are relevant to all outdoor adventurers whether she is a hardcore rock crawler, seasoned adventure traveler or simply a guy that wants to take his kids fishing. Every issue will have appeal to a broad base of outdoor enthusiasts who want to escape to where they belong."

OutdoorX4 will be offered six times annually, commencing in late 4th Quarter 2013 in both a print and digital version. The print book will be available for purchase at all major newsstands within the United States with plans for international distribution in 2014. Both versions will be available for domestic and international subscription with our digital edition viewable on all mobile devices. The OutdoorX4 website, with an expected launch in Summer 2013, will be a one-stop hub with unique and aggregated content in all areas of 4x4 adventure travel and outdoor recreation.

About the OutdoorX4 Team OutdoorX4's mission is to promote responsible 4x4 adventure travel and outdoor recreation while also working to establish solidarity within the 4x4 and outdoor recreation communities. The OutdoorX4 editorial team is comprised of experienced adventurers from all corners of the globe whose style of story telling relates with the masses and whose passion for their various disciplines permeates and captures the reader with articles and photos that will inspire. Our executive team has numerous years of publishing experience to capture the broadest audience through all media platforms including at the newsstand, on a computer, or virtually any mobile device available on the market today.

For inquiries including business development opportunities and product review requests, please contact Frank Ledwell or John Herrick via email at

This email address is being protected from spambots. You need JavaScript enabled to view it.

or telephone at (832) 865-7999 or (775) 393-9056.


New Stock - More Colors - Winch Recovery Bandana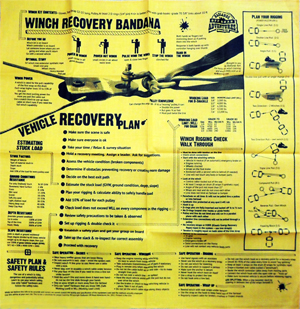 Click for higher resolution image

By the time you get this we should have our new stock with many new colors (Red, Orange, Green, Blue) on hand. The Bandana is packed full of useful information and is a quick reference in the field when no DVD player is available."

The Bandana layout follows the "Vehicle Recovery Plan" with pathways to more detail. A unique section of the Bandana, gives the steps for a "Winch Rigging Check: Walk through" so that you verify every element of the rigging before you commit to the pull. Stuff this in your recovery kit and you will always be ready!

Pick up or order the Winching DVD too! There is no substitute for hands on training. If you can, sign up for one of Badlands Off-Road Adventure's Winching Clinics.

Warning – the Bandana and DVD are not a substitute for proper training and use of quality equipment that is used within the bounds of their safe working load. We advise you to use the information provided in both the Winching Recovery Bandana and the "Basic to Advanced Winching and Recovery DVD" at your own risk. We cannot control the quality and specifications of the equipment used and the methods actually employed.






Winch Recovery Bandana Order Button




Order a Basic to Advanced Winching & Recovery DVD too!







I hope to see you on the trails!
Tom Severin, President
Badlands Off Road Adventures, Inc.
4-Wheel Drive School
310-374-8047
http://www.4x4training.com
Make it Fun. Keep it Safe.
#####
If you find this information valuable, please pass it on to a friend. You can forward them the email. If you received a forwarded copy of this newsletter and would like to subscribe for yourself, go to: www.4x4training.com/contacts.html and follow the instructions to join our mail list.
Want To Use This Article In Your Magazine, E-Zine, Club Newsletter Or Web Site? You are welcome to use it anytime, just be sure to include the following author/copyright information: Tom Severin, 4x4 Coach, teaches 4WD owners how to confidently and safely use their vehicles to the fullest extent in difficult terrain and adverse driving conditions. Visit www.4x4training.com to develop or improve your driving skill.

Copyright 2013, Badlands Off-Road Adventures, Inc.
Original author:
This email address is being protected from spambots. You need JavaScript enabled to view it.